From the Rising of the Sun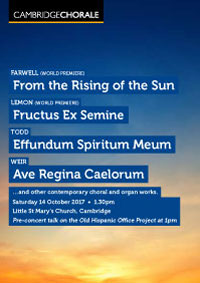 Saturday 14 October 2017 • 1.30 pm
Little St Mary's Church, Cambridge
Cambridge Chorale presents a diverse programme of contemporary choral and organ works by living composers.
As part of this, we are delighted to be presenting world premieres of two works composed for Bristol University's Old Hispanic Office Project Composition Competition and one piece which received a commendation in the competition:
Neal Farwell's 'From the Rising of the Sun' (premiere)
Benedict Todd's 'Effundam Spiritum Meum'
Karen Lemon's 'Fructus Ex Semine' (premiere)
…alongside music by Weir, McDowall and Park.
A short talk on the OHO Project, which focusses on all aspects of medieval Iberian music and liturgy, will precede the concert at 1pm.