O Little Rose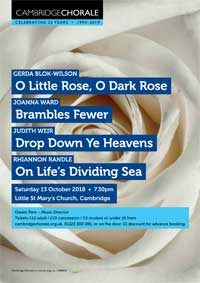 Saturday 13 October 2018 • 7.30 pm
Little St Mary's Church, Cambridge
To begin their 2018/19 season, Cambridge Chorale perform a stunning array of choral works by composers including Cheryl Frances-Hoad, Eleanor Daley, Imogen Holst and Master of the Queen's Music, Judith Weir.
The concert includes the premiere of a fascinating work by Cambridge composer, Joanna Ward, in which words from Christina Rossetti's poem A Bird Song are fractured and distorted in a dream-like scene before finally being revealed. Another highlight will be a BBC Radio 3 commission: Lucy and Helen Pankhurst created a new composition, The Pankhurst Anthem, to commemorate the centenary of women being given the vote. It is a powerful work, which explores the modern repercussions of the suffrage movement.
The choir will also be performing pieces from their upcoming album, Hymns to the Mother of God.
Full programme
Drop down ye heavens - Judith Weir
O Ecclesia - Hildegard von Bingen
Brambles fewer - Joanna Ward
On life's dividing sea - Rhiannon Randle
In Heaven it is always Autumn - Imogen Holst
The Pankhurst Anthem - Lucy Pankhurst
Fading - Joanna Marsh
O Little Rose, O Dark Rose - Gerda Blok-Wilson
Floodlight, starlight - Cheryl Frances-Hoad
Vertue - Judith Weir
Ave Regina caelorum - Judith Weir
These Things Shall Be - Ailsa Dixon
Grandmother Moon - Eleanor Daley
Pricing and booking
Adult: £12
Concession: £10
Child (under 16) / student: £5
£1 discount for advance booking.
Online booking will be available soon. Tickets are also available on the door.