Songs and Sonnets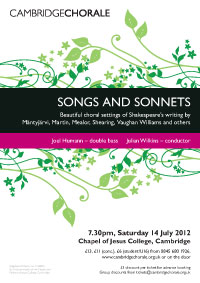 Saturday 14 July 2012 • 7.30 pm
Chapel of Jesus College, Cambridge
Cambridge Chorale presents a choral treasury of some of Shakespeare's most famous texts, in the beautiful medieval surroundings of Jesus College Chapel, Cambridge.
The Tempest is a particular lure for composers and features throughout this programme: Martin's Songs Of Ariel are full of vivid choral textures, and Vaughan Williams' Three Shakespeare Songs are perfect miniatures designed to test an unaccompanied choir in competition conditions, while Mäntyjärvi adds texts from Twelfth Night and Macbeth to his selection for his Four Shakespeare Songs, blending Renaissance poetry with a more contemporary choral style.
More recent choral examples are provided by Argento, with his dark-toned Sonnet 64, Mealor (recently voted the UK's favourite living composer), with texts selected from Hamlet, Richard III and King John, and Rorem, with Two Shakespeare Poems. Finally, jazz influence pervades Rutter's lively choral writing in his Birthday Madrigals and Shearing's collection of Songs and Sonnets from Shakespeare.
An interview with Paul Mealor
Virginia Newman, Alto with Cambridge Chorale, interviewed Paul Mealor, composer of Ubi Caritas, written for the Royal Wedding in 2011.
Ubi Caritas takes its text from the fourth century Christian hymn that was normally sung at the service for the washing of the feet on Maundy Thursday. The words translate to: "Where charity and love are, God is there. Let us come together in God's love and let us love each other with a sincere heart."
Why did you set the words of Ubi Caritas, and what can you tell us about the composition?
The meaning of the words, in my mind, is two-fold: firstly, a prayer about love and, secondly, about service. After all, Jesus came to serve, and the Their Royal Highnesses are about to enter a long period of service to the nation. I wanted to capture these two themes in my piece.
The composition is for choir and is gentle, delicate and meditative. The ancient, fourth century plainchant of Ubi Caritas is blended with 21st century harmony to create a work that, I hope, is both new and reflective of the past.
Did you expect to be asked to be the Royal Wedding composer?
This commission came as a complete surprise to me - a letter, completely out of the blue in November saying that the royal couple had heard and enjoyed my music and wanted to include it in the ceremony - I almost fell over when I heard the news.
I hope that my work fulfilled their wish for a piece that offered meditation and quiet contemplation amongst all the pomp and celebrations.
What were Kate and William like? Are you pleased young people enjoy your music when often they don't enjoy classical music?
The Duke and Duchess of Cambridge are very special people. I'm always delighted to hear from anyone who has enjoyed my music, but to get so many emails and letters from young people is a great thing indeed! I think young people have their ears 'open' and, when they hear something that resonates with them, they engage with it...
How has your life as a composer changed since the Royal Wedding?
My life has really changed in many respects since the Royal Wedding - firstly, my music is now performed all over the world and a great many commissions and invitations have been sent/given to me... This is wonderful. However, I haven't changed at all personally - I still prefer to walk, alone along the coastline listening to the movement of the waves, rather than attend any great function or event... For me, music flows from a 'still' soul at peace with itself.
What are your future plans?
There are a great many events and concerts planned of my music and a number of recordings coming out over the next few years. I've just signed a record deal with Decca Records and their new CD of my sacred choral music, entitled The Serene Lights of Heaven, will be released in October. It will include many of my most deeply personal pieces sung by some of the world's greatest artists - a truly special album... I'm so looking forward to that!
And... why should people come and listen to Cambridge Chorale performing your pieces?
It is very important in this busy world to make time for the most important things... Cambridge Chorale are one of the leading vocal groups in the country - people need to make time to come and hear them perform this very special, deeply personal work of mine. I'm sure they will not regret it and, through Cambridge Chorale's beautiful singing, I hope they will be transported back to the Royal Wedding and the beauty of Westminster Abbey.