A Renaissance Christmas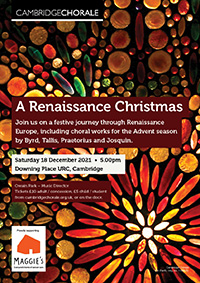 Saturday 18 December 2021
Downing Place URC, Cambridge
Very sadly, Cambridge Chorale's Christmas concerts will not be going ahead this year.
The current Covid-19 situation has made it impossible to continue with our plans. Unfortunately, due to Covid cases or self-isolation requirements, we no longer have enough singers to perform for you and attending any public venue carries a certain amount of risk at the moment. We did not feel it was fair to put that risk onto our members, the venue staff or our loyal audience members and would hate to be the reason that anyone had to miss out on Christmas with your friends and family so have made the very difficult decision to cancel our concerts this weekend.
We are so very disappointed not to be able to perform for you and were so looking forward to bringing some festive spirit back this year, but sadly it will have to wait until next year. We wish you all a very happy and healthy Christmas and look forward to being able to perform for you in the future. Do keep checking the website or our social media posts for news of future concerts.
Merry Christmas and thank you for your understanding in these tricky times.