Recordings
We've recorded a number of CDs, which have been well received by the public and critics alike. Our recordings are listed below with track details and, for recent CDs, audio samples - and you can buy the CDs online, too.
From time to time we record our concerts; you can hear some excerpts from live concert performances using the player below, or find more on our SoundCloud page.
Track samples
Hymns to the Mother of God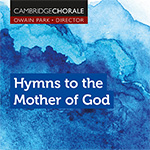 Join us on a musical journey from the Renaissance to the modern day in celebration of the Virgin Mary.
Featuring music by Tavener, Grieg, Victoria and Palestrina, alongside new works by exciting young composers Sarah Rimkus and Joanna Ward, there is sure to be something to suit all tastes.
See track listing and buy online...
Songs & Sonnets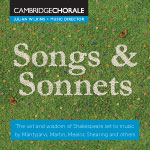 The wit and wisdom of Shakespeare, set to music by Mäntyjärvi, Martin, Mealor, Shearing and others.
See track listing, hear samples and buy online...
Salvator Mundi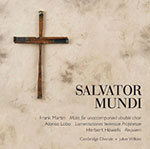 Choral music from the heart. Cambridge Chorale presents a disc of choral masterpieces: Herbert Howells' Requiem, Alonso Lobo's Lamentations and Frank Martin's Mass, recorded in the beautiful Église Saint-Laurent, Roujan, France.
See track listing, hear samples and buy online...
A Christmas Celebration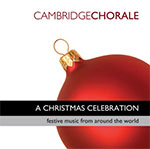 This recording conveys the spirit of Christmas through an extraordinary range of musical style and language. From the traditional fare of Anglican carol services to contemporary music from the Dominican Republic, the mystery, magic and festivity of the season are all celebrated.
See track listing, hear samples and buy online...
My Spirit Sang All Day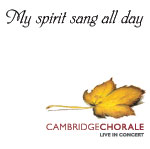 This recording was made at a public concert in West Road Concert Hall, Cambridge, and was released in December 2005. The programme includes Cambridge Chorale favourites such as the African folksong O-re-mi and O crux ave by Rihards Dubra. The CD ends with the fabulous double-choir Ave Maria by Franz Biebl.
Lovely, well-nuanced performances with a fine sense of style.

Simon Halsey, Chorus Director, City of Birmingham Symphony Chorus
A round-the-world programme with something for everyone, sung with commitment and joy by a fresh-voiced young choir which does credit to Cambridge and to its expert and versatile conductor Julian Wilkins. [...] This is what a good community chamber choir should be about!

John Rutter, Composer
This CD has now sold out.
Northern Lights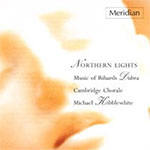 Devoted to the work of Rihards Dubra, Northern Lights features not only a selection of his choral motets (there is, incidentally, no duplication of material between this disc and Alpha-Omega), but also larger works for choir, marimba, saxophone and organ.
Release date: April 1999.
Buy this CD online from Meridian Records.
Alpha-Omega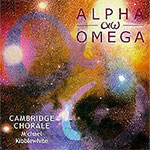 Cambridge Chorale's first CD recording was well received by audiences and critics alike. It covers many musical styles, and includes motets by Dubra, Monteverdi and Rachmaninov, songs by Samuel Barber, and contemporary science-fiction 'mood music' by Dave Hewson, Tony Hymas, and Stephen Baker.
Director - Michael Kibblewhite.
This recording was chosen by the critic Richard Baker as his CD Choice in the October 1997 issue of Classic FM Magazine, and was also reviewed in BBC Music Magazine.
Release date: April 1996.
This CD has now sold out.
Commercial recordings
Cambridge Chorale has made a number of commercial recordings, both as a contributor to library discs and as a session choir. A number of these recordings have been used on national television and radio in advertisements, jingles and as background music to documentaries. Find out more about booking Cambridge Chorale for commercial recordings.