Hymns to the Mother of God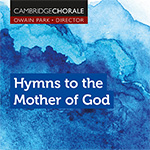 Join us on a musical journey from the Renaissance to the modern day in celebration of the Virgin Mary.
As the Mother of Jesus, Mary's status as conduit and embodiment of the divine has provided rich inspiration for composers over the centuries. Mary made the celestial accessible to the earth-bound in much the same way that the best sacred music can: just as our responses to her story can vary, so too does this music encompass great variety and contrast.
Featuring music by Tavener, Grieg, Victoria and Palestrina, alongside new works by exciting young composers Sarah Rimkus and Joanna Ward.
Release date: 29 February 2020.
CDs of Hymns to the Mother of God are available to buy via PayPal for £12, including P&P. Please double check your shipping address on the PayPal screen.
Track listing
1. Ave sanctissima Maria - Marco Galvani
2. Hymn for the Dormition of the Mother of God - John Tavener
3. Mater Dei - Sarah Rimkus
4. Ave Maria - Robert Parsons
5. She Adored - Joanna Ward
6. Ave Regina caelorum - Judith Weir
Three Liturgical Motets - Healey Willan
7. Fair in face
8. I beheld her, beautiful as a dove
9. Rise up, my love, my fair one
10. Ave maris stella - Edvard Grieg
11. The Mother of God - Owain Park
12. Alma redemptoris mater - Cecilia McDowall
13. Ave Maria - Tomás Luis de Victoria
14. Mother of God, here I stand - John Tavener
15. A Hymn to the Mother of God - John Tavener
16. Hodie nata est - Giovanni Pierluigi da Palestrina
17. Regali ex progenie - Jacob Handl
18. Tota pulchra es - Maurice Duruflé
19. Alma redemptoris mater [a8] - Orlando di Lassus
20. Ave Maria - Paweł Łukaszewski