Salvator Mundi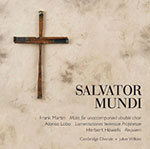 Salvator Mundi - choral music from the heart. Cambridge Chorale presents a disc of choral masterpieces by Herbert Howells, Alonso Lobo and Frank Martin, recorded in the beautiful Église Saint-Laurent, Roujan, France.
Both Howells' Requiem and Martin's Mass date from the first half of the 20th century and were so personal to the composers that they withheld their manuscripts from publication for many years. Thankfully, the manuscripts were eventually released, and the sheer beauty of the music made available to all. Full of Renaissance Iberian Catholic flavour, Lobo's Lamentations are sublime and deeply moving.
Release date: March 2011.

CDs of Salvator Mundi are available to buy from Amazon.co.uk for £8, plus P&P.
Track previews
Track listing
Mass for unaccompanied double choir (Frank Martin)
1. Kyrie
2. Gloria
3. Credo
4. Sanctus
5. Agnus Dei
Lamentationes Ieremiae Prophetae (Alonso Lobo)
6. De lamentatione Ieremiae Prophetae
7. Heth. Misericordiae Domini
8. Heth. Novi diluculo
9. Heth. Pars mea Dominus
10. Teth. Bonus est Dominus
11. Teth. Bonum est praestolari
12. Teth. Bonum est viro
13. Iod. Sedebit solitarius
14. Iod. Ponet in pulvere os suum
15. Iod. Dabit percutienti se
16. Ierusalem
Requiem (Herbert Howells)
17. Salvator mundi
18. Psalm 23
19. Requiem aeternam (1)
20. Psalm 121
21. Requiem aeternam (2)
22. I heard a voice from heaven