A Christmas Celebration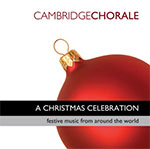 This recording conveys the spirit of Christmas through an extraordinary range of musical style and language. From the traditional fare of Anglican carol services to contemporary music from the Dominican Republic, the mystery, magic and festivity of the season are all celebrated.
Release date: December 2007.
CDs of A Christmas Celebration are not currently available.
Track previews
Track listing
1. Hodie Christus natus est - Jan Pieterszoon Sweelinck
2. Matin responsory - Giovanni Pierluigi da Palestrina
3. Weihnachten - Felix Mendelssohn, arr. Philip Ledger
4. Hark! the herald angels sing - Felix Mendelssohn
5. Tyebye poyem - A I Labinski
6. Quatre motets pour le temps de noël (1) - Francis Poulenc
7. Quatre motets pour le temps de noël (2) - Francis Poulenc
8. Quatre motets pour le temps de noël (3) - Francis Poulenc
9. Quatre motets pour le temps de noël (4) - Francis Poulenc
10. The rainbow carol - Selwyn Image & Julian Wilkins
11. Hymne à la Vierge - Pierre Villette
12. ¡Llega la Navidad! - Ramón Díaz, arr. Juan-Tony Guzman
13. Jajang, jajang, Ahgi Yesu - Hyun Chul Lee
14. Amuworo ayi otu nwa - Christian Onyeji
15. The first Noel - traditional, arr. David Maddux
16. Tomorrow shall be my dancing day - John Gardner
17. Adam lay ybounden - Matthew Larkin
18. The lamb - John Tavener
19. Alleluia! I bring you news of great joy - Francis Grier
20. The Lord at first - Ralph Vaughan Williams
21. O magnum mysterium - Morten Lauridsen
22. O come, all ye faithful! - John Francis Wade, arr. Philip Ledger & David Willcocks
23. We wish you a merry Christmas - traditional, arr. Arthur Warrell
24. Have yourself a merry little Christmas - Hugh Martin & Ralph Blane, arr. Peter Gritton