English Choral Gems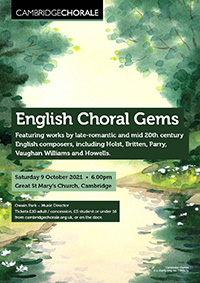 Saturday 9 October 2021 • 6.00 pm
Great St Mary's Church, Cambridge
Join us for an uplifting evening of English choral masterpieces as we celebrate our first concert since the lifting of Covid restrictions.
This inspiring programme features works by late-romantic and mid 20th century English composers including Holst, Britten, Parry, Vaughan Williams and Howells.
Gustav Holst The Evening Watch
Ivor Gurney Chant to Psalm 23
Benjamin Britten Hymn to St Cecilia
Imogen Holst A Hymne to Christ
C. H. H. Parry from 'Songs of Farewell'
1. My soul, there is a country
2. I know my soul hath power to know all things
3. Never weather-beaten sail
Ralph Vaughan Williams Valiant for Truth
Herbert Howells Take him earth for cherishing
W. H. Harris Bring us, O Lord God
Pricing and booking
Adult / concession: £10
Child (under 16) / student: £5
Buy tickets online from https://www.ticketsource.co.uk/cambridge-chorale/t-dezxzr.
Tickets are also available on the door.
Safety
To help keep everyone safe, audience members are asked to wear a mask (if they are able to) at all times whilst inside the venue and we will be spacing out the audience as much as possible. Please do not attend if unwell or if you have come into contact with someone with Covid 19.