Hymns to the Mother of Christ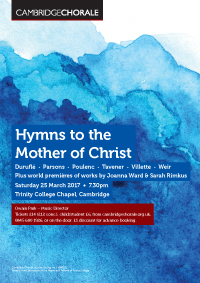 Saturday 25 March 2017 • 7.30 pm
Chapel of Trinity College, Cambridge
By kind permission of the Master and Fellows of Trinity College.
Join us on a musical journey from the Renaissance to the modern day in celebration of the Virgin Mary.
Featuring well-known pieces by William Byrd and Benjamin Britten, alongside world premières by exciting young composers Sarah Rimkus and Joanna Ward, there is sure to be something to suit all tastes.
Tavener – Two Hymns to the Mother of God
Duruflé – Tota Pulchra Es
Villette – Hymne à la Vierge
Parsons – Ave Maria
Willan – Three Liturgical Motets
Sarah Rimkus – Mater Dei
Joanna Ward – She Adored
…plus many more.