O magnum mysterium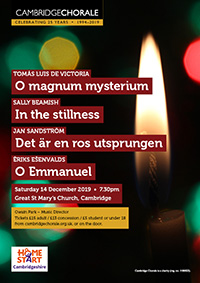 Saturday 14 December 2019 • 7.30 pm
Great St Mary's Church, Cambridge
Join Cambridge Chorale in a musical journey from reflective Advent gems to the magical anticipation of Christmas Eve and the wonder and excitement of Christmas Day.
A programme spanning almost 500 years explores the glorious variety of choral music written for this festive season including works from Rutter, Chilcott, Praetorius, Howard Skempton, Cecilia McDowall, and many more.
We are delighted to be supporting Home-Start Cambridgeshire.