Passio with The Gesualdo Six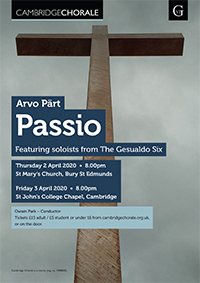 Thursday 2 April 2020 • 8.00 pm
St Mary's Church, Bury St Edmunds
This compelling and profoundly beautiful setting of the St John Passion is one of Pärt's most popular works and employs his truly original tintinnabuli style.
Composed in 1982, and featuring soloists alongside choir, oboe, violin, cello, bassoon and organ, its austere, solemn and monolithic beauty has entranced many listeners since its publication in 1989.
Featuring soloists from The Gesualdo Six.
Tickets and booking
Tickets for this concert are available to purchase online from Helm Tickets using the form below. If you have any questions, please contact us.
Tickets may also be available on the door.
Adult: £15
Student / under 16: £5