The Passing of the Year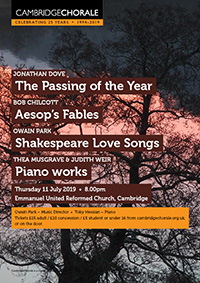 Thursday 11 July 2019 • 8.00 pm
Emmanuel United Reformed Church, Cambridge
The Passing of the Year is a vivid cycle for choir and piano by Jonathan Dove that explores the changing seasons through the poetry of Blake, Dickinson and Tennyson.
Owain Park unites texts from across the bard's oeuvre for the Shakespeare Love Songs, an unaccompanied work joined by John Rutter's Hymn to the Creator of Light.
Toby Hession plays piano works by Thea Musgrave and Judith Weir, with the programme rounded off by delightful settings of ancient stories in Bob Chilcott's Aesop's Fables.
Cambridge Chorale will also be performing this programme in London on Saturday 13 July 2019 for Muswell Hill Music Festival.