The Summer is Coming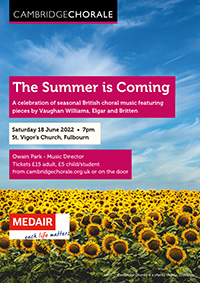 Saturday 18 June 2022 • 7.00 pm
Join us for an uplifting summer evening of choral favourites. Our inspiring programme will feature much loved works by Vaughan Williams, Finzi, Howells, Elgar and others.
We will be using the concert as an opportunity to support the current crisis in Ukraine by way of a retiring collection and choir donation to Medair's Ukraine Emergency Appeal.
Programme
Jonathan Harvey Song of June
Herbert Howells The Summer is Coming
Ralph Vaughan Williams Three Shakespeare Songs
i. Full Fathom Five
ii. The Cloud-Capp'd Towers
iii. Over Hill, Over Dale
Rebecca Clarke Music, when soft voices die
Gerald Finzi My spirit sang all day
Vaughan Williams Bushes and Briars
Anna Semple My bonnie lies
Jonathan Dove Who killed cock robin?
Owain Park Louisa
Benjamin Britten The Evening Primrose
Edward Elgar There is sweet music
Tickets
£15 adult
£5 child/student
Buy tickets online from https://www.ticketsource.co.uk/cambridge-chorale/t-yaqpxda.
Tickets are also available on the door.