Welcome All Wonders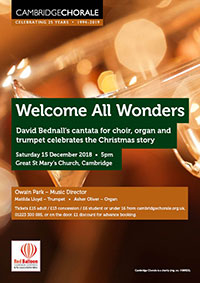 Saturday 15 December 2018 • 5.00 pm
Great St Mary's Church, Cambridge
'Welcome all Wonders' is an innovative new work for the Christmas season, written for choir, organ, and trumpet by British composer, David Bednall.
Inspired by the music of Herbert Howells and Ralph Vaughan Williams, Bednall retells the Christmas story through a fascinating selection of poems and liturgical texts. The interplay between the instruments both illuminates and invigorates the narrative, varying the texture while providing moments of sublime contrast. Words by Christina Rossetti and Dora Greenwell focus on less-familiar scenes, with Bednall's contemporary musical language juxtaposed with ancient plainchant.
At last year's concert, we performed two of the unaccompanied movements from the work, and are now excited to be presenting a complete performance of this alternative Christmas story. Join Cambridge Chorale, with Matilda Lloyd (trumpet), Asher Oliver (organ) and Owain Park (director), for this festive performance you are sure to enjoy.