A Festival of Britten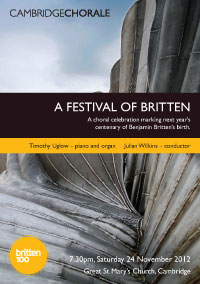 Saturday 24 November 2012 • 7.30 pm
Great St Mary's Church, Cambridge
On St Cecilia's Day (22 November) 1913, a unique force in British music was born, Edward Benjamin Britten. Of his contemporaries, none wrote such a wide variety of music across such a broad spectrum of genres and for such a range of ages and abilities. To celebrate the centenary of this remarkable man, the Britten-Pears Foundation are promoting performances of his works worldwide from September 2012 to August 2014 with the logo "Britten 100".
Naturally, in this concert - "A Festival Of Britten" - Cambridge Chorale celebrates the composer's superb contribution to the choral genre with some familiar and less well-known examples. Of the familiar, we include the evocative "A Hymn To The Virgin" (written at the age of 16 whilst still at school); the splendid festival cantata "Rejoice In The Lamb" (written for the 50th anniversary of St Matthew's Church, Northampton) set to a text by Christopher Smart; and, appropriately, the challenging "Hymn To St Cecilia", setting to music the extraordinary imagery of W. H. Auden's prose. Of the less well-known, we explore further Britten's collaboration with Auden in the beautifully crafted "Chorale After An Old French Carol" (written in 1944 for the BBC programme "A Poet's Christmas"), and a passionate setting of Psalm 70 "Deus In Adjutorium Meum…" (used in 1945 as incidental music for Ronald Duncan's play "This Way To The Tomb"). In this Diamond Jubilee year, we also including music by Britten with a regal flavour: "God Save The Queen" (recently heard at the BBC "Last Night Of The Proms"), and "Choral Dances From 'Gloriana'" (these colourful choral miniatures form a masque in the opera, which is performed for Queen Elizabeth I on her visit to Norwich).
Britten was a practical composer. He knew that the music he wrote was performable because he himself was an accomplished professional musician. His choral output is essentially approachable, tonal, lyrical, and pleasing to both performer and listener. Along with the many other events of "Britten 100", Cambridge Chorale dedicates this concert to the legacy of "the 20th century's consummate musician".