As darkness falls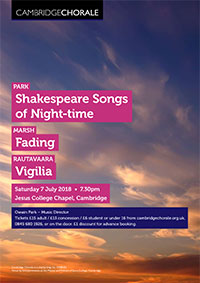 Saturday 7 July 2018 • 8.00 pm
Jesus College Chapel, Cambridge
As the fading sunlight burnishes the night sky and darkness falls, we present three pieces on the theme of dusk.
Park's Shakespeare Songs of Night-time explore six of Shakespeare's scenes, featuring dream-like phrases contrasting with spiky passages, tied together with the words 'Come, gentle night, come, loving black-brow'd night'.
Marsh chooses a poem by Iraqi author Abboud al Jabiri for her piece Fading, which follows the decline of an aging woman, likening her to a bird losing feathers as it grows older.
Finally, Rautavaara's Vigilia blends ancient and modern modes in a beautiful a capella setting of texts from the Orthodox liturgies of Vespers and Matins.