Christmas Concert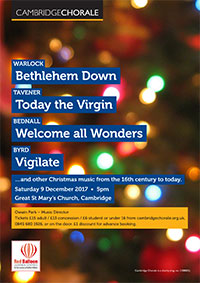 Saturday 9 December 2017 • 5.00 pm
Great St Mary's Church, Cambridge
A showcase of Christmas pieces from the 16th century to the present day.
Alongside music by Byrd, Praetorius and Tallis, we will be singing Tavener's Today the Virgin, two movements from Bednall's Welcome all Wonders, Warlock's sublime Bethlehem Down and more – with a little Leroy Anderson to properly get into the festive spirit.
We are delighted to be supporting Red Balloon specialist learner centres for children.