Christmas is coming...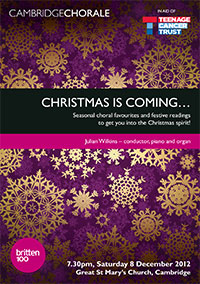 Saturday 8 December 2012 • 7.30 pm
Great St Mary's Church, Cambridge
Christmas is coming… it certainly is! Let Cambridge Chorale launch you into the Christmas spirit with a concert full of seasonal choral favourites and festive readings. From the hushed simplicity of "Coventry Carol" (Lully, Lulla, Thou Little Tiny Child) and Elizabeth Poston's "Jesus Christ The Apple Tree", to the joyful exuberance of "Tomorrow Shall Be My Dancing Day" and William Mathias' "Sir Christèmas". We continue our celebration of Benjamin Britten's choral music - as part of "Britten 100" (a festival marking the centenary of his birth) - by offering three beautifully crafted seasonal works: "Chorale After An Old French Carol", "A Hymn To The Virgin" and "A New Year Carol". Christmas wouldn't be Christmas without the evocative music of John Rutter: we include his wonderfully reflective "Nativity Carol", the lively "Sans Day Carol", and not forgetting his inspirational setting of "The Twelve Days Of Christmas". All this is topped off with festive family favourites - "We Wish You A Merry Christmas" and "Have Yourself A Merry Little Christmas" - along with opportunities for everyone to sing their hearts out in popular audience carols.