Ein deutsches Requiem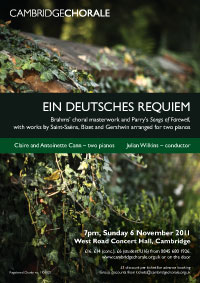 Sunday 6 November 2011 • 7.00 pm
West Road Concert Hall, Cambridge
Johannes Brahms' Ein deutsches Requiem is one of his most profound and intimate works, well known in its original version for soloists, chorus and orchestra. Brahms assembled the libretto himself, taking words from the Old and New Testaments rather than using the Roman Catholic liturgy, thus putting the emphasis on comforting the living instead of praying for the dead.
In this performance, Cambridge Chorale is delighted to be joined by the internationally renowned duo-pianists Claire and Antoinette Cann, soloists Natalya Romaniw and Ashley Riches and timpanist David Ellis for an inspired reworking of Brahms' score by the German professor and composer Heinrich Poos.
Cambridge Chorale also presents the sublime choral music of an English composer who admired Brahms and who was greatly affected by his death: Sir Charles Parry. His Songs of Farewell, composed in his last decade, give the listener a glimpse of this private man who sensed that his own life was drawing to a close. Additionally, Claire and Antoinette Cann perform Camille Saint-Saëns' sinister Danse Macabre, Georges Bizet's reflective Intermezzo from Carmen, and Percy Grainger's superb arrangement of George Gershwin's themes in Fantasy on 'Porgy and Bess'.
In preparation for this concert, Cambridge Chorale worked on German pronunciation with Norbert Meyn, Professor at the Royal College of Music and the Guildhall School of Music and Drama. He comments: "Cambridge Chorale is well on their way to establishing itself as one of the finest chamber choirs in the country. The potent combination of young, well-trained voices and professional-standard musicianship makes them capable of a very high level of performance."