Feel the Spirit!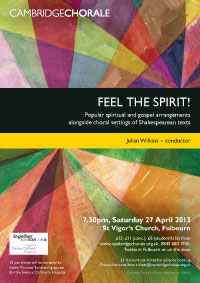 Saturday 27 April 2013 • 7.30 pm
Cambridge Chorale presents an enticing programme featuring a rich array of popular spiritual and gospel arrangements alongside some of Shakespeare's most famous texts. The Tempest is a particular lure for composers and features in Martin's Songs of Ariel, which are full of vivid choral textures. More contemporary settings are found in Argento's dark-toned Sonnet 64; Mealor's heartfelt Let Fall The Windows Of Mine Eyes; and Rorem's contrasting miniatures, Two Shakespeare Poems. Jazz influence pervades Rutter's It Was A Lover And His Lass, Lindberg's warm setting of Shall I Compare... and Shearing's collection of Songs and Sonnets From Shakespeare. African-American spirituals comprise one of the world's greatest and best-loved bodies of music, appealing to performers and audiences across all boundaries. Well-known titles such as Steal Away, Nobody Knows, Deep River, The Battle Of Jericho, Were You There, Didn't My Lord Deliver Daniel and Rock-a My Soul are all arranged by a superb gallery of composers including Richard Allain, Moses Hogan, Kirby Shaw and Michael Tippett. Finally, Handel's Hallelujah Chorus receives a gospel makeover, guaranteed to get your feet tapping and your hands clapping!
As many of you know, Fulbourn is Chorale's adopted home, and we are delighted to be supporting a very local appeal at this concert. Six-year old Lewis Thomas, a pupil at Fulbourn Primary School, was fitted with a pacemaker in December last year after collapsing while getting ready for school. His mother is now leading a fundraising campaign to raise money for Evelina Children's Hospital at St Thomas' Hospital in London, where Lewis was treated. You can read more about his story here.
£1 from every ticket sold was donated to Lewis' appeal, and there will also be a retiring collection; in total we raised £500.