New Music Director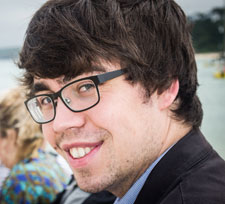 It gives me great pleasure to announce that we have appointed Owain Park to succeed Julian Wilkins as Music Director of Cambridge Chorale.
Owain is an accomplished conductor, singer, organist and prize-winning composer. He recently graduated from Trinity College, Cambridge where he was Senior Organ Scholar, and he is excited at the prospect of working with us. Owain will take up the position on 1 August 2016 and we look forward to introducing you to him over the autumn.
In the meantime, I do hope you will join us to celebrate Julian's final concert, Flower Songs, on Saturday 16 July 2016 at Trinity College Chapel to thank him for all he has done for the choir, and give him the send off he so richly deserves.
We thank you for your continued support.
Sian Hornby
Chair, Cambridge Chorale
2 July 2016